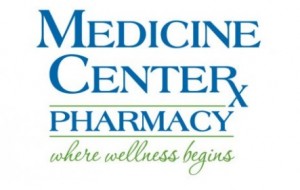 Many people believe that the best feeling in the world comes from giving a gift to someone you care about. And that is very true. Wrapping up your carefully chosen item, presenting it to the recipient, anxiously waiting to see their reaction when they open it… It's very exciting! But it's safe to say that we enjoy receiving presents as well—especially on our birthdays. While you might expect to get gifts from friends, family members, and co-workers, did you know that you can also receive a free gift from your local Northeast Ohio pharmacy? That's right! The caring pharmacy staff at Medicine Center Pharmacy surprises their Birthday Club members with a gift on their birthdays. Not only can you get affordable health and wellness supplies at each of the Canton, Ohio; Louisville, Ohio; Alliance, Ohio; and New Philadelphia, Ohio locations, but you can celebrate your birthday too!
Medicine Center Pharmacy is always coming up with new ways to connect with customers, as well as offer them great deals on health and wellness supplies. And boy, do they help their customers save! With all kinds of coupons, special deals, programs, and generic prescriptions, customers can end up saving a ton of money by visiting their nearby Canton, Louisville, Minerva, or New Philadelphia location! But one of the most fun and interesting things that Medicine Center Pharmacy offers is their Birthday Club. By visiting Medicine Center Pharmacy's website, you can join their Birthday Club. All you have to do is take a few seconds out of your day to fill out a form. And after that, you're part of the club!
No matter what your age may be, getting a surprise gift in the mail on your birthday is something we all love. And when you receive a free gift from Medicine Center Pharmacy during the month of your birthday, your curiosity will increase tenfold! The caring pharmacy staff of your local pharmacy will ship out a special postcard wishing you a happy birthday. But the best part is the scratch-off sticker! You'll have no idea what your birthday prize will be until you scratch off the sticker. And the anticipation is half the fun! When you reveal your prize, all you have to do is bring your card in to one of the four pharmacy locations in Northeast Ohio to claim your gift.
What a nice way to help you celebrate your birthday! Medicine Center Pharmacy's caring pharmacy staff is always doing things to help out customers in any way they can. Whether it's directing them to affordable health and wellness supplies, explaining their convenient delivery service, or introducing them to their Birthday Club, Medicine Center Pharmacy is big on giving! To find out more about Medicine Center Pharmacy and how you can receive a free gift on your birthday, visit www.MedShopRX.com, or just go to the Northeast Ohio location nearest you!
2526 Tuscarawas Street W.
Canton, Ohio 44708
330-455-5422
700 West Main Street
Louisville, Ohio 44641
330-875-5525
251 East Street
Minerva, Ohio 44657
330-868-6200
551 West High Avenue
New Philadelphia, Ohio 44663
330-339-4466