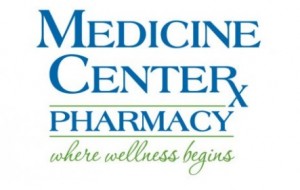 With all the snow that has fallen around the Northeast Ohio area recently, there are probably a few of you that are a bit wary to venture outside of your homes. Traveling through thick snow and slippery ice is no one's idea of a fun drive, but sometimes we just have to buckle in, back out of the driveway and be especially careful on the roads. After all, if you need to pick up medical prescriptions, diabetic products, incontinence supplies or any other health-related items, you can't very well stay at home, can you? Actually, Medicine Center Pharmacy allows you to do just that! Offering a free home delivery service to residents in the Canton, Ohio; Minerva, Ohio; Louisville, Ohio; and New Philadelphia, Ohio areas, Medicine Center Pharmacy makes getting the products you need a quick, simple and affordable task! Pharmacy delivery is available to those who live near a Medicine Center location, so if you're just a few miles from your local pharmacy, you can easily take advantage of this convenient service.
There are just some things you can't go without. And your medical prescription is one of them. If you suffer from a medical condition, not taking your daily dose of medication can be very dangerous. But when your driveway is covered in snow and you can't make it out of your garage, it can be difficult to get to the pharmacy in order to purchase your medication. Medicine Center Pharmacy is well aware of how temperamental Ohio weather is, which is why they are more than happy to offer their pharmacy delivery service year-round.
Whether you're in need of diabetic products, incontinence supplies, or you've run out of your medical prescription, Medicine Center Pharmacy can provide their free home delivery service if you live in the vicinity of one of their facilities. All you have to do is pick up the phone, call the Canton, Minerva, Louisville, or New Philadelphia location nearest you, and let one of the Medicine Center associates know what you need. You can even have over-the-counter items delivered if you're feeling ill and you're in need of symptom relief!
Let's face it—there will be days this winter season when you're not too thrilled with the prospect of leaving your warm, cozy house. So rather than braving the cold, wind and snow, why not take advantage of Medicine Center's free home delivery service? If this Northeast Ohio pharmacy is willing and able to bring you the things you need, it would just be silly not to utilize this great service!
To learn more about pharmacy delivery available from Medicine Center, visit www.medshoprx.com. Their website can explain their free home delivery service in greater detail. If you'd like to talk to an associate at this Northeast Ohio pharmacy to find out the stipulations, simply contact the Medicine Center Pharmacy location nearest you. And this winter, don't be afraid to enlist their help if you need any medical prescriptions, diabetic products, or incontinence supplies delivered to your door.
2526 Tuscarawas Street W.
Canton, Ohio 44708
330-455-5422
700 West Main Street
Louisville, Ohio 44641
330-875-5525
251 East Street
Minerva, Ohio 44657
330-868-6200
551 West High Avenue
New Philadelphia, Ohio 44663
330-339-4466