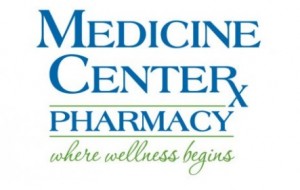 As smart phones become more advanced, companies are creating new, easy-to-use applications for their customers. Now you can get everything from sale notifications to streaming radio shows. Not only is this a great way for businesses to stay in contact with their customers 24/7, but it's incredibly convenient for consumers too! Medicine Center Pharmacy, with locations in Canton, Ohio; Minerva, Ohio; Louisville, Ohio; and New Philadelphia, Ohio, has recently created their very own pharmacy phone app for Northeast Ohio customers to utilize. Now Medicine Center shoppers from all over the region can read health tips, find pharmacy deals, ask an expert health and wellness questions, and even listen to the Health Matters radio show! If you've been looking for a better way to get information from your local pharmacy, Medicine Center Pharmacy has a great solution for you.
Medicine Center Pharmacy is always looking to implement new strategies in order to help their customers save on the products they purchase most often, as well as get the health information they need to stay in tip-top shape. This Northeast Ohio pharmacy offers everything from a calendar of events to an informative radio show about health and wellness. And they do it all for customers like you! Medicine Center shoppers from Canton, Minerva, Louisville, and New Philadelphia frequently go to this pharmacy because the staff goes above and beyond to assist those in need. And now they've even created a new pharmacy phone app for people to install on their smart phones!
If you're a big fan of creative, user-friendly applications, then you'll love Medicine Center Pharmacy's app. It has everything you need to stay in contact with your pharmacy 24/7. And if you like saving money (who doesn't?) then you'll find the app to be especially convenient! The app allows you to find pharmacy deals in your area by clicking on the 'coupons' button. And since Medicine Center always has something new to offer customers, you'll want to check out this feature as often as possible.
With a calendar of special events and sales, a simple way of registering for the Birthday Club, health tips, delivery options, up-to-date information on screenings and immunizations, and the ability to ask health and wellness questions while listening to the Health Matters radio show live, this app lets you stay in the know when it comes to your pharmacy. Sound like an app you really want on your phone? Then what are you waiting for?
Medicine Center's pharmacy phone app is available for Apple, Droid, and Blackberry. So, just go to your app store and install the app to your phone today! With easy-to-use options for finding pharmacy deals, asking health and wellness questions and more, Medicine Center Pharmacy's app is a great way to stay in contact with your Northeast Ohio pharmacy every day. To find out more about Medicine Center Pharmacy and their new app, visit www.MedShopRX.com or call the location nearest you!
2526 Tuscarawas Street W
Canton, Ohio 44708
330-455-5422
700 West Main Street
Louisville, Ohio 44641
330-875-5525
251 East Street
Minerva, Ohio 44657
330-868-6200
551 West High Avenue
New Philadelphia, Ohio 44663
330-339-4466