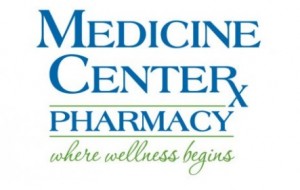 The holidays are coming up fast and you know what that means… Now is the time when you really need to watch your spending! With a long list of people to buy presents for, you want to be sure your everyday purchases don't affect your wallet in a negative way. Fortunately for you, Medicine Center Pharmacy can help you save more on the purchases you generally make at the pharmacy, such as home medical equipment, health and beauty items, immunizations and more. Plus, Medicine Center Pharmacy has over 400 affordable generic prescriptions so you can get your medication for less than $4 for a 30-day supply and $10 for a 90-day supply! With four locations throughout the Stark County, Ohio and Tuscarawas County, Ohio areas, Medicine Center Pharmacy makes getting the health products you need even more convenient. And with the holiday chaos currently surrounding you…well, you'll really appreciate Medicine Center's convenient service!
Before you venture out on your holiday shopping trip, it may be a good idea to head over to your nearest Medicine Center Pharmacy location first. Since you're planning on visiting various retailers to sort through their merchandise and find the perfect presents for your loved ones, you want to be prepared. Going to so many public places and touching different surfaces means you'll be at a higher risk for contracting an illness, and that's the last thing you want before the holiday festivities! Luckily, Medicine Center Pharmacy is still offering immunizations to help you defend yourself against the flu, shingles, and pneumonia! It's better to be safe than sorry, especially where the holidays are concerned…
Now, if you're shopping for presents around the Stark County and Tuscarawas County areas, you'll definitely want to take a slight detour to visit the closest Medicine Center location. This area pharmacy helps customers save a lot of money on the things they purchase every day, so you can be sure you're getting the best deal on your home medical equipment or health and beauty items. Along with offering regularly discounted and house-brand products, Medicine Center even provides customers with affordable prescriptions. With a number of generic prescriptions for less than $4 for a 30-day supply and $10 for a 90-day supply, you can get your medication at quite a bargain!
Medicine Center Pharmacy has some great ways to save on the products you need. So, why not take advantage of them during the holiday season when you need to save most? Before you head out to do your last-minute shopping, make sure to visit the Stark County, Ohio or Tuscarawas County, Ohio Medicine Center nearest you. You can get a flu immunization to help prevent illness, pick up some affordable prescriptions, or just get a good deal on the home medical equipment or health and beauty items you need. Visit www.MedShopRX.com to see what items they have available and how they can help you keep more money in your wallet this holiday season!
2526 Tuscarawas Street W
Canton, Ohio 44708
330-455-5422
700 West Main Street
Louisville, Ohio 44641
330-875-5525
251 East Street
Minerva, Ohio 44657
330-868-6200
551 West High Avenue
New Philadelphia, Ohio 44663
330-339-4466