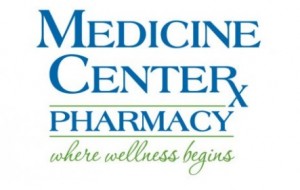 Do you visit your local pharmacy or drug store often? Have a lot of prescriptions to fill? Frequently need certain health supplies for yourself, a family member or pet? If so, the receipts can add up pretty quickly. Sometimes you end up spending a lot more at your pharmacy than you intended to. At least that's the case if you're not a customer of Medicine Center Pharmacy. With four convenient locations throughout the Stark County, Ohio and Tuscarawas County, Ohio areas, Medicine Center Pharmacy makes it easy for customers to shop and save by offering inexpensive health supplies to those who need them. And on top of that, this full-service pharmacy even rewards their loyal customers by handing out a Valued Customer Card! With reasonably-priced products offered regularly, and a ton of additional ways to save, why wouldn't you go to this Northeast Ohio pharmacy for all of your health and wellness needs?
Admit it—anytime you go shopping you end up buying at least a few more items than were on your list. We all do it! A package of cough drops in case you get sick, a pack of gum that caught your eye, a small tube of lip balm that you don't REALLY need… Little things can quickly increase your bill, especially if you have a couple of prescriptions to fill. Luckily, Medicine Center Pharmacy helps their Northeast Ohio customers save on their everyday purchases by giving them a Valued Customer Card. By purchasing items that you need, like immunizations or prescriptions, you can earn stamps. The Medicine Center Pharmacy even offers bonus stamps for customers who purchase the Gold Item of the Week. Once you collect five stamps, you can fill up your card to receive $10 worth of Medicine Money to use for any items you may need in the future!
Whatever you choose to use your Medicine Money for is up to you! Once you've filled up your card you can simply visit your Stark County or Tuscarawas County Medicine Center location and shop with some extra cash. Whether you want to shave a few dollars off the cost of your health supplies you really need, or just pick up some over-the-counter medicine to prepare for a cold, you'll be glad you have your Medicine Center card to help you out! With such great savings offered by this full-service pharmacy, why not take advantage of them?
This Northeast Ohio full-service pharmacy doesn't just want to help customers stay healthy, they also want to help them save by offering inexpensive health supplies and additional ways to get discounts on their purchases. It's nice to know that even frequent pharmacy visitors can get great bargains on the things they buy. So, why not visit the Stark County, Ohio or Tuscarawas County, Ohio Medicine Center Pharmacy location nearest you? You can pick up some special Gold Item products, get a flu shot before winter hits, and fill your prescriptions—all while adding stamps to your Valued Customer Card! Visit www.MedShopRX.com for information on the Medicine Center Pharmacy.
2526 Tuscarawas Street W.
Canton, Ohio 44708
330-455-5422
700 West Main Street
Louisville, Ohio 44641
330-875-5525
251 East Street
Minerva, Ohio 44657
330-868-6200
551 West High Avenue
New Philadelphia, Ohio 44663
330-339-4466