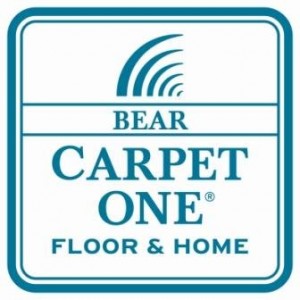 Everyone has their limits. Sometimes, we approach them gradually.  Sometimes, we just wake up one morning and realize that we simply cannot live another day that floor covering! Time to go shopping, but where do you begin? Well, if you live in the Holmes County, Ohio area, you start at Bear Carpet One Floor & Home, of course! Only minutes away, and a favorite of Dover, Ohio and New Philadelphia, Ohio customers for years, Bear Carpet One offers a huge selection of home flooring products to spruce up any room in your house! And don't worry about carpet installation—Bear Carpet One's experienced professionals will do it for you. Keep your house looking beautiful with new kitchen laminate or bathroom tile from Bear Carpet One in Sugarcreek, Ohio.
Originally started by George Bear as a garage-based operation in 1984, Bear Carpet One has grown tremendously. But while Bear Carpet One might have expanded over the years, one thing has remained constant—the sincere desire to assist customers in any way possible. Customer requests are taken seriously at Bear Carpet One, causing this Sugarcreek business to grow even further. The influx of new home flooring styles offered at Bear Carpet One? Brought in by consumer demand. The carpet installation service performed by experienced personnel? Also brought in by request. No matter what kind of product or service you're looking for, the friendly staff at Bear Carpet One will help you find it.
Bear Carpet One has countless options when it comes to redoing a room in your Dover or New Philadelphia home. The associates at Bear Carpet One are happy to help you find the carpet, tile, hardwood, or laminate floor you want. With a wide variety of styles, colors, patterns, and textures, you'll find something that will suit your tastes and your budget.
Don't think you can afford that new bathroom tile or kitchen laminate for your Holmes County dwelling? Don't be too sure! Since Bear Carpet One has hundreds of stores in their buying group, they are able to obtain their products at low prices—allowing you to save big! Bear Carpet One also has incredible financing options when you purchase your new home flooring through their business. Whatever your budget may be, Bear Carpet One will help you with a payment plan that suits your needs.
Ready to purchase your new home flooring? Then stop by Bear Carpet One at 759 Dover Rd NE in Sugarcreek, Ohio. Serving the Dover, Ohio and New Philadelphia, Ohio area, Bear Carpet One can provide you with the stylish products and quality service you need to make your home beautiful again. To find out more about the carpet installation service offered by Bear One Carpet, or just to take a look at the kitchen laminate and bathroom tile options they have available, visit their website at www.bearfloorcovering.com or give them a call at 330.852.3890. You'll be glad you turned to nearby Bear Carpet One for your new Holmes County, Ohio floor.